Tea Therapy
Our Tea Therapy line of high quality teas are delicious, nourishing and healthy.  From our herb based detox tea blend to the floral light fruitiness of some rooibos blends you will find the loose leaf teas satisfying to the palate as well as healing to the body.  
Our teas change with the seasons, and with your sessions a beneficial blend may be recommended to improve your symptoms, ease your stress or aid in longevity and ward off disease.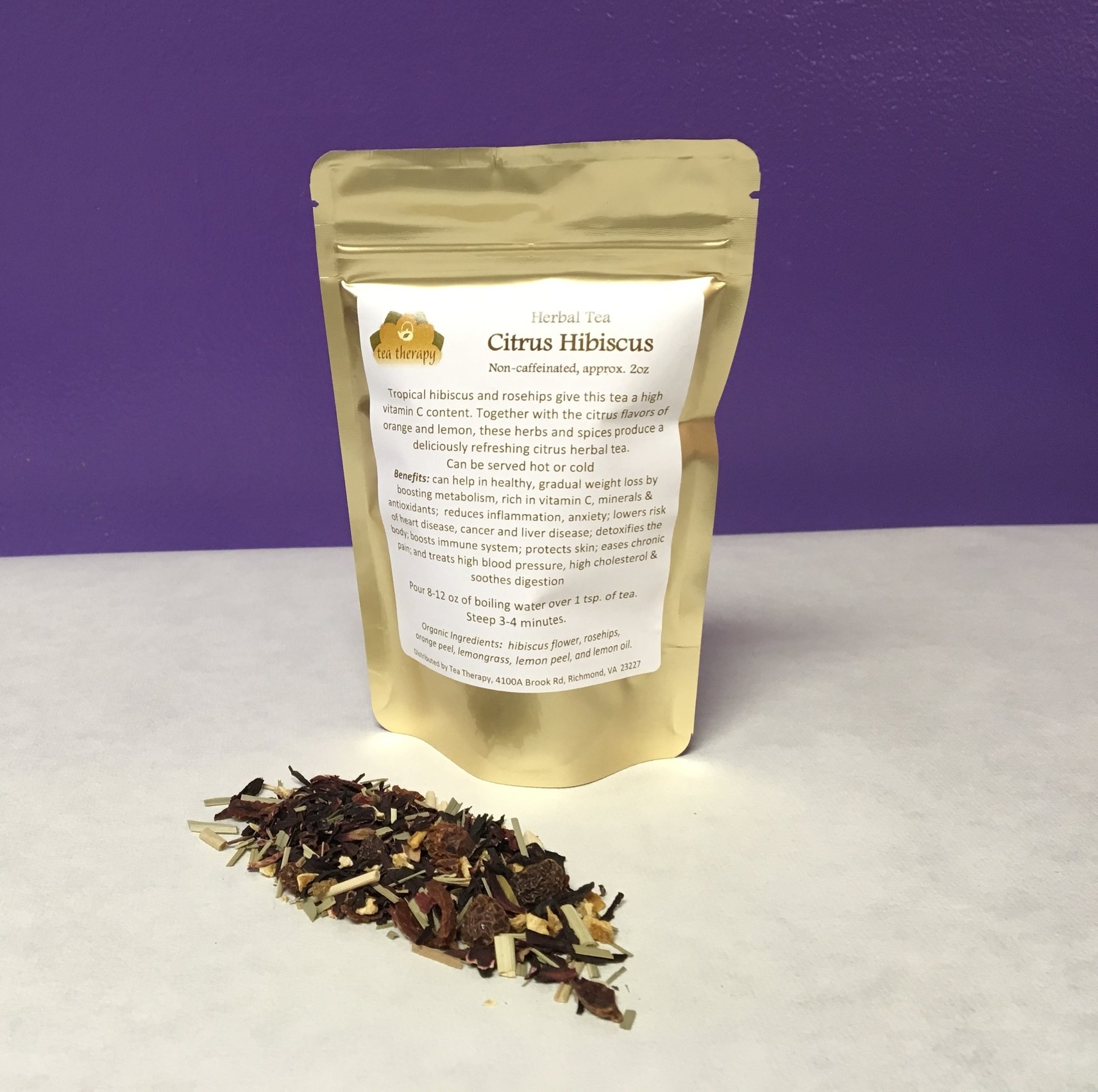 Herbal tea – non-caffeinated - Tropical hibiscus and rosehips give this tea a high vitamin C content. Together with the citrus flavors of orange and lemon, these herbs and spices produce a deliciously refreshing citrus herbal tea. Can be served hot or cold. Benefits: can help in healthy, gradual weight loss by boosting metabolism, rich in vitamin C, minerals & antioxidants; reduces inflammation, anxiety; lowers risk of heart disease, cancer and liver disease; detoxifies the body; boosts immune system; protects skin; eases chronic pain; and treats high blood pressure, high cholesterol & soothes digestion Organic Ingredients: hibiscus flower, rosehips, orange peel, lemongrass, lemon peel, and lemon oil.
Herbal tea - non-caffeinated - Organic Ingredients: Green Rooibos, Fennel, Linden Flower, Orange Peel, Raspberries, Licorice Root, Neem, Cinnamon, Elderberries, Echinacea, Chili Pepper
Herbal tea – non-caffeinated - Revitalize your brain power with this tea containing some of the more powerful memory enhancing herbs, such as ginkgo and gotu kola, and healthful antioxidants. A hint of bilberry and ginger gives this tea a fruity, clean taste. Benefits: treats Alzheimer's/dementia, alleviates depression, protects nervous system, prevents hair loss, speeds wound healing, improves respiratory health, increases energy. Ingredients: Organic ginkgo leaf, organic hibiscus flower, organic eleuthero root, organic gotu kola herb, organic parsley flakes, organic alfalfa leaf, organic bilberry leaf, and organic ginger root
Rooibos tea – non-caffeinated - Whether it's a boost of energy that is needed or a tranquil breath of fresh air, we've designed this exclusive blend to support every woman by restoring balance in the body, mind & soul Great hot or cold. Benefits: benefits diabetes, high cholesterol and cancer, edema, infertility, depression, nervous breakdown, diarrhea and rheumatism; increases lactation; antifungal; stimulates the immune system and fights against infections. Ingredients: Organic Shatavari, Organic Fennel, Roses, Green Rooibos, Organic Lavender, Chrysanthemum, Organic Hibiscus
Herbal tea – non-caffeinated - Benefits: improves high blood pressure and hyperthyroidism, respiratory problems, reduces inflammation; calms nerves, protects your heart, boosts immune system, improves vision, benefits the eyes, strengthens bones
Herbal tea- non-caffeinated - Olive leaf strengthens your immune system. It also helps lower blood pressure and fights cholesterol.
Herbal tea – caffeinated - This delicate herbal fusion intertwines sweet, cooling notes of spearmint and cucumber, inviting a refreshing lift to your day.
Herbal tea – caffeinated - Lift your spirits with a cup of organic bliss. Sweet raspberries are perfectly balanced by tangy hibiscus while the floral scent of jasmine carries this slightly stimulating guayusa tea to your happy place. Benefits: strengthens digestion & immune systems, cleans teeth, aids in weight loss, increases energy levels, rich in vitamin C, reduces inflammation, lowers your risk of heart disease, fights cancer, detoxifies the body, protects the skin, and eases chronic pain. Ingredients: Organic Guayusa, Organic Raspberries, Organic Apple Bits, Organic Jasmine Green Tea, Organic Hibiscus, Organic Rosehips
Herbal tea – non-caffeinated - Rest easy with this calming bedtime inspired blend that will send you off to dreamland so quickly, you won't even have to count sheep. Benefits: calming, promotes sleep, quiets the mind, reduces agitation, calms the heart. Ingredients: Organic Chamomile, Organic Spearmint, Organic Lemon Balm, Organic Valerian, Organic Lemongrass, Organic Passion Flowers, Organic Rose Petals
Herbal tea – non-caffeinated - A deliciously healthful blend, with the subtle spicy taste of turmeric and cinnamon, combined with the soothing taste of ginger. It is truly a delightful blend to be enjoyed any time of the day. Benefits: The primary active ingredient in Turmeric is curcumin, a potent antioxidant with therapeutic benefits. Turmeric promotes healthy liver function, and can help support blood purification, joint and bone health, and boost your body's natural defenses. Ingredients: organic turmeric root, organic cinnamon, organic ginger root
Herbal tea – non-caffeinated – Benefits: Alleviates anxiety and headaches, promotes relaxation.
Herbal tea – non-caffeinated – Benefits: Relieves high blood pressure and high cholesterol, helps digestive and immune systems, relieves inflammatory problems.
Herbal tea – non-caffeinated – detox blend - Organic Ingredients: Green Rooibos, Roasted Dandelion Root, Burdock Root, Barberry Root, Fennel Seed, Licorice Root, Rhubarb Root, Astragalus Root